History of Josymir Maltese...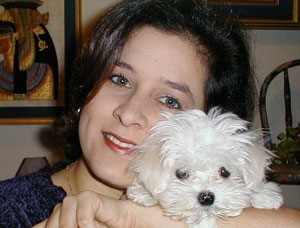 Josymir Maltese began in Western Pennsylvania in 1994, when we purchased our first male Maltese, Gucci. He stole our hearts and we became enchanted with the Maltese Breed. Since then, we have devoted ourselves exclusively to Maltese.

We breed on a very small scale, preferring to focus on QUALITY instead of quantity. We produce intelligent, healthy, beautiful Maltese puppies that are outgoing, full of life and satisfy the AKC standard.That is not only our promise to our new families but our duty as responsible breeders!


With this goal in mind, we only incorporate dogs in our breeding program who are healthy, have good temperaments and are good representatives of the breed. As a result our puppies' pedigrees are very impressive, containing not only many American and International Maltese Champions, Top Ranking Maltese , Group winning Maltese but also Top Champion producers.
Our loving puppies make great additions to special homes. All of our puppies are raised in our home and handled from birth. We devote much time to socializing and interacting with our puppies, which prepares them for an easy transition into their future homes. This socializing and handling is of benefit to the puppy whether they are destined to become a future show dog or a loving companion.
Through the years, we have bred, owned and handled several Maltese Champions. Our very first conformation show champion was Ch. Josymir's Franz Jose (Franz). His success in the ring was only the first step towards a long line of champions. Franz went on to produce outstanding Champion progeny who in turn produced outstanding progeny of their own. We have bred champions who have made an impact in the show world. Among those is Group Winning Ch. Josymir's Shocking News, who achieved #24 in the Maltese Breed Standings for 2004, although she was shown very limitedly and Group Winning & Multiple Group Placing Ch. Josymir's Page Turner who ranked #7 Maltese in 2009 and our first Grand Champion in 2011 Group winning and group placing Gr. Ch. Josymir's More Than Just News. Please visit "Our Maltese" page to see our champions and current show dogs.
We attribute a lot of our success as breeders to those who have taught and supported us along the way, namely, Michelle DiCola of "Marchelle/DiAmore Maltese" and Christopher Vicari and Manny Comitini of "Chrisman Maltese" who helped us get started. Their help, guidance and friendship has helped us become who we are. Along the way we have made other new friends not only in the Maltese world but in other breeds as well and I am glad for their friendship, mentorship and support as well.
Club Memberships:
Ft. Steuben Kennel Association

Achievements:
Breeder of the #7 Maltese in the USA in 2009
Home of over 10 Home bred Champions
Home of multiple Grand Champions
Ranked #4 Toy Breeder Owner-Handler


Occasionally we have Maltese puppies available for sale. Please feel free to check my " BABIES" page for current information on Available Puppies and upcoming litters!!!

We will continue adding new and valuable information in the future but for now feel free to visit all our site. Come in and meet our Maltese babies and Maltese show dogs.
Love... Josy