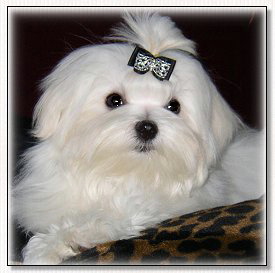 Our reason to breed is to improve on our Maltese show dogs and continue with our line. We strive to produce intelligent, healthy,outgoing, beautiful Maltese puppies that satisfy the AKC Standard
We are aware that health problems are a concern in many breeds. Recognizing the problem is the first step towards a solution. Here at Josymir Maltese, through careful breeding practices, we make every effort to ensure our puppies are healthy and happy so they can provide many years of companionship and love to their owners.
All of our Maltese puppies are raised in our home and handled from birth. This ensures that our babies are properly socialized and loved from day one which makes it easier for them to adapt to their new homes.
All Maltese puppies sold as pets are sold with limited AKC registration, a spay/neuter contract, health records and will not leave our home until they are at least 12 weeks old. All our new owners will leave our home with a copy of shot records, along with written grooming, feeding, training and health care instructions.
Please visit our Testimonials Page to read what our puppy homes have to say and please visit our Available Puppies Page to see the puppies we have available or Contact us for updates and upcoming littler information.
Don't forget to visit our Puppy Gallery to see some of the puppies we have bred that have gone to their new homes.
From time to time, we have adult Maltese Dogs that have been retired from our breeding program. If you would like to inquire about one of these very special Maltese Dogs, please contact us.
Maltese Puppy Resources
Available Maltese puppies

Testimonials

Puppy vs Teenager vs Adul - Which should I adopt?

Accessories for your Maltese puppy

Tear Stain causes and cures

Puppy Gallery

Male vs Female

AKC Papers

AKC Standard

Why Pay more for a Maltese Pet Puppy?

Grooming your Maltese Puppy

Bringing your Maltese Puppy home